Introducing the Challenge of Grocery Shopping for Large Families!
Hey y'all! I'm super excited to talk about grocery shopping for large families today. First up, let's define what a large family is. In my book, it's any family with more than four members. And let me tell you, grocery shopping can be a real challenge when you've got a bunch of mouths to feed.There are several challenges that come with grocery shopping for a large family. First off, it can be time-consuming. You've got to plan meals, make lists, and then lug all those groceries back home. Plus, buying groceries in bulk can get expensive and can make it hard to stick to a budget.But don't worry, I've got some tips and tricks up my sleeve to help streamline the process and make grocery shopping for large families a little less daunting. Let's get started!
Streamlining Grocery Shopping Strategies for Large Families
As a mother of five children, I know how challenging it can be to grocery shop for a large family. Over the years, I've developed some strategies that have helped me streamline the process and save both time and money. Here are some tips that have worked for me:
Meal Planning
Meal planning is crucial when grocery shopping for a large family. I like to take some time on Sunday to plan out meals for the week. I think about what I already have in the pantry, what meals will be easy to make, and what ingredients I need to buy. This helps me create a shopping list and make sure I don't forget anything.
Making a List and Sticking to It
Before I leave for the grocery store, I make a list of everything I need. This helps me avoid impulse purchases and ensures that I don't forget anything. It's also important to stick to the list once I'm in the store. Large families can go through groceries quickly, so it's important to stay on budget.
Bulk Shopping
Bulk shopping is a great way to save money when grocery shopping for a large family. I like to buy non-perishable items like rice, pasta, and canned goods in bulk. Buying in bulk can be more expensive upfront, but it saves money in the long run.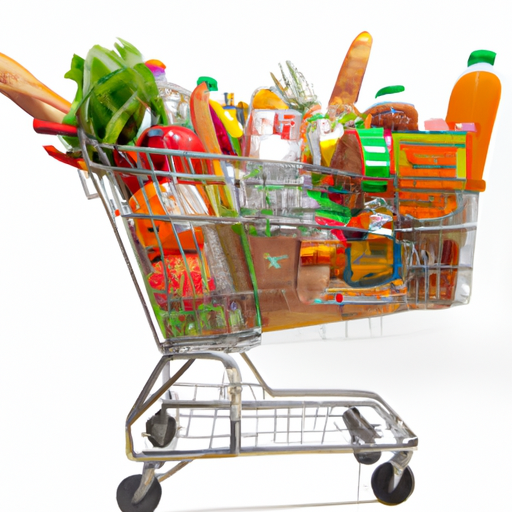 Online grocery shopping has been a game-changer for me. It saves time, allows me to compare prices, and eliminates the stress of taking my kids to the store. Many grocery stores offer online shopping, and some even offer delivery. It's important to read reviews and make sure the service is reliable before placing an order.
Overall, grocery shopping for a large family requires planning, organization, and some smart strategies. By implementing these tips, you can save time and money while keeping your family well-fed.
Streamlining Grocery Shopping for Large Families
As a mom of six kids, grocery shopping can be an overwhelming task. I've tried all sorts of strategies to streamline the process, but one of my favorite solutions has been taking advantage of online grocery services. Here's why:
Advantages
First of all, online grocery services save time. Shopping in person with a large family can take hours, especially if you're trying to keep kids under control and juggle a list. With online shopping, you can browse and select products at your own pace, from the comfort of your own home. Plus, you can set up recurring orders for items that you always need, saving you even more time and effort in the long run.
Online shopping can also help you save money. Many grocery services offer discounts and deals that you might not be able to find in-store. Plus, it's easier to compare prices between products and brands when you're shopping online – you don't have to run back and forth between aisles to see which item is cheaper!
Another advantage of online shopping is the convenience factor. Many services offer home delivery, which means you don't have to worry about loading kids and groceries into the car, driving home, and unloading everything once you get there. Some stores also offer curbside pickup, where a staff member brings your order out to your car, which is great if you don't want to leave kids in the car while you run into the store.
Tips for Successful Online Grocery Shopping
Of course, there are a few things to keep in mind when you're using online grocery services. First, make sure you're ordering from a reputable store or service. Do some research to find reviews from other customers, and pay attention to any red flags like unsecure payment pages or unclear return policies.
Second, take advantage of any customization options that are available. Many services will let you specify things like substitution preferences or special requests, so make sure to use those features if you need them.
Finally, keep in mind that online grocery shopping isn't always perfect. Sometimes items might be out of stock or you might receive the wrong product. In those cases, be patient and willing to work with the store or service to find a solution.
Overall, online grocery services can be a lifesaver for large families. They save time and money, and can make the whole grocery shopping process much more manageable. Give them a try – you might be surprised how much easier grocery shopping can be!
Conclusion: So Long, Grocery Shopping Woes!
Wow, what a journey! I feel much more equipped to tackle grocery shopping for my large family now that I've learned some helpful strategies. Meal planning, making a list, sticking to it, and bulk shopping are excellent ways to streamline the grocery shopping process. And don't forget the power of online grocery services! With a little research and preparation, you can save time, money, and stress.
Overall, I've learned that grocery shopping for large families doesn't have to be a daunting task. With the right mindset and tools, you can turn it into a fun and fulfilling experience. I highly recommend checking out CookbooksandKids.com for more detailed advice on meal planning for big families.
I hope you found this guide helpful and inspiring. Happy shopping!