Introduction
Well, if you're looking for a balanced, delicious snack that's packed with healthy fats and loads of veggies, it doesn't get better than whole grain pita with hummus and veggies. If you haven't tried it yet, here's exactly what you need to know.
A "whole grain pita" is simply a flatbread made from whole grains. It's usually round in shape and can be found in any good grocery store. As for the hummus, it's a creamy paste made from chickpeas, tahini, olive oil, lemon juice, garlic, and salt. Plus, it comes in a variety of flavors, so you can really customize the snack! And when it comes to veggies, there are so many options – cucumbers, tomatoes, peppers, carrots, and more. You can choose whatever your family likes best!
The combination of these three simple ingredients makes for a hearty, flavorful, and nutritious snack. Let's jump right in and learn how to make it at home.
What You'll Need
I'm gonna get right to it – here's what you need to make this tasty Whole Grain Pita Hummus & Veggie snack. Let's start with the groceries: we're gonna need some pitas, hummus, and a few veggies of your choice. It doesn't have to be much – a couple stalks of celery, some mini peppers, broccoli florets, or whatever else looks good at the store.
In terms of equipment, all you really need is a cutting board and a knife. Optional would be tongs, which can come in handy if you're making this with kiddos so no one gets their hands messy. You don't want to deal with a bunch of dishes either, so unless you have a super fancy kitchen, I recommend avoiding extras like baking sheets.
Directions
Ok, so let's get down to business! Time to make this awesome snack. Your first order of business is to preheat your oven. Crank it up to 375 degrees F and leave it alone until it reaches that temp.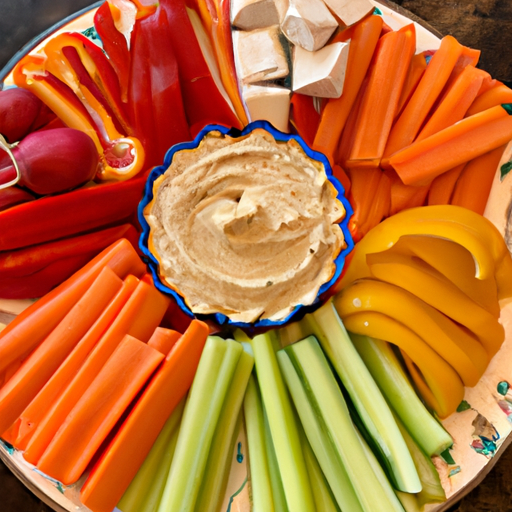 Now grab a large bowl and dump in your 3 cups of whole grain pita. Throw in some salt and pepper and give it a good toss. After that, add just enough olive oil to coat them all nicely. That should help keep them from burning in the oven.
Line a baking sheet with parchment paper (for easy cleanup!) then lay out your pitas on there. Pop 'em in the oven and give 'em about 15 minutes. Now, you want the edges to be golden brown, but not burnt—so keep an eye on 'em.
While those are in the oven, take two cups of chopped veggies—I recommend using bell peppers, tomatoes, and onions—and mix 'em all together in a medium bowl. Drizzle some olive oil and sprinkle on some salt and pepper. Give it all a gentle stir. This'll go in the oven when the pitas come out.
When the pitas have finished baking, take them out and let 'em cool for a few minutes. Then, set aside 4-6 of them to use later. For the remaining pitas, take each one, spread a generous amount of hummus on it, then top it off with your veggie mixture. Voila! You now have yourself some tasty whole grain pita sandwiches.
Finally, stick the pita sandwiches back in the oven and bake for about 10 minutes. The hummus will get nice and warm and the veggies will caramelize. Yum! Once they're done, flip off the oven and you're ready to serve.
Making It Fun For Kids (and Not for Others)
Putting together a whole grain pita, hummus, and veggies doesn't have to be boring – with just a few tweaks, you can make it a fun snack that kids will love! First off, it's all about presentation. Letting kids pick out their own ingredients is half the battle. Give them little bowls of diced vegetables so they can customize their pita pockets – carrots, cucumbers, spinach, even sliced radishes if they're feeling adventurous.
You can also get creative with hummus – try adding different herbs or spices for a unique flavor, or use food coloring to make it extra festive. Turning the whole thing into a challenge is another great way to get your kids involved. Invite them to create their own spooky-looking creations using olives, peppers, and jalapenos, and see how crazy they can make it. Last but not least, don't forget – always end with a special reward (something sweet!) so they'll feel like they accomplished something.
Conclusion
Well, there you have it folks. I'd say we've crafted up a pretty tasty snack and made something that even the kiddos can enjoy! Our whole grain pita with hummus and veggies concoction is sure to be an all-around hit! Not only is it scrumptious and visually appealing, but it is also incredibly healthy and nutritious with the perfect balance of carbs, protein and essential vitamins.
As someone who has lots of experience in cooking up delicious snacks like this one, my main advice would be to get creative and have fun with it. You don't have to stick to my exact recipe. Experimenting with different types of veggies, herbs and spices can really take your hummus game to the next level.
So there you have it – just a reminder that eating healthy doesn't have to be boring or complicated. With a few simple ingredients, some creativity and a bit of patience, you can whip together a great-tasting whole grain pita snack with hummus and veggies in no time at all!
Healthy Snacking FAQ
What to serve with hummus and pita?
I'm no expert on snacks for kids, but I'd serve up some carrot sticks and sliced bell peppers alongside the pita and hummus. If you want to spice things up a bit, add a few slices of radish, some cucumber slices, and a bit of feta cheese. And don't forget the tzatziki sauce—it's delicious with everything! No matter what you serve, be sure to keep the portion sizes reasonable and give families the option to choose what they want. Variety is key!
If you're looking for something a bit more exotic, I suggest you try some pan-seared tofu cubes. Tofu is a great source of protein, and it pairs well with hummus and pita. Try adding some roasted garlic and a bit of cilantro for a real kick. And don't forget that you can use the same ingredients in recipes for quesadillas or burritos, too. Just toss all the ingredients into a skillet and let 'er rip. Delicious!
What healthy snacks to eat with hummus?
As an expert in the field of snack foods, I'm sure you know that hummus can be a delicious option for snacks for kids. But, if you're looking for something to pair with it, I'd suggest some fresh vegetables and whole-grain pita. You can find a variety of veggies like carrots, cucumbers, peppers, or celery that all pair perfectly with this classic dip. Add some of your kid's favorite toppings, like salsa and cheese, as long as you keep it healthy. Whole-grain pita is a great option for a crunch factor, as it offers a great source of fiber and complex carbohydrates that will keep your little ones full and energized. And with a little creativity, you can whip up a fun and nutritious snack your kids will love.
Is hummus and veggies a good snack?
Absolutely! Hummus and veggies is a great snack for kids! Packed with protein, fiber, and vitamins, it's a tasty, healthy combo. Plus, it's quick and easy to prepare. Hummus is loaded with complex carbohydrates, which give kids lasting energy. And the veggies offer a wide range of micronutrients – important for developing immune systems and healthy bodies. All in all, it's just the type of nutritious, yet convenient snack kids need.
Plus, kids are sure to love the dip factor. Dipping crunchy carrots or celery sticks into a cool bowl of hummus provides a fun, interactive way for kids to enjoy their snack. Add to that some whole grain pita, and you have a well-rounded snack that appeals to both the body and the taste buds.
But the main benefit of this snack is that it's so portable – perfect for an after-school snack or an on-the-go bite. So don't hesitate to give hummus and veggies a try! Your kids will thank you.