Introduction
Ah, fast food. When you gotta have it, it's definitely hard to resist! But for all its deliciousness, let's be honest: it's pretty unhealthy. So what do you do when you're craving a quick bite that won't ruin your health? Not to worry — with a bit of help, you can make smarter selections. In this article, I'm gonna break down the 10 healthiest fast food options, as well as their benefits and tips on finding them! Let's get started.
Top 10 Healthiest Fast Foods
When you're on the go and don't have time to cook, fast food is a great option.
But who says it can't be healthy? Check out my top ten best picks for tasty and nutritious eats!
First up is a grilled chicken sandwich. No need for processed meats here. Pick a grilled option, opt for whole wheat bread, and hold the mayo for a savory and nutritious lunch.
If 'sandwiches ain't your thing, why not try a salad with lean protein? Toss together some lettuce, tomato, cucumbers, broccoli, and whatever else tickles your fancy. Top it off with grilled chicken or fish, and dress it with olive oil and vinegar – delicious AND nutritious!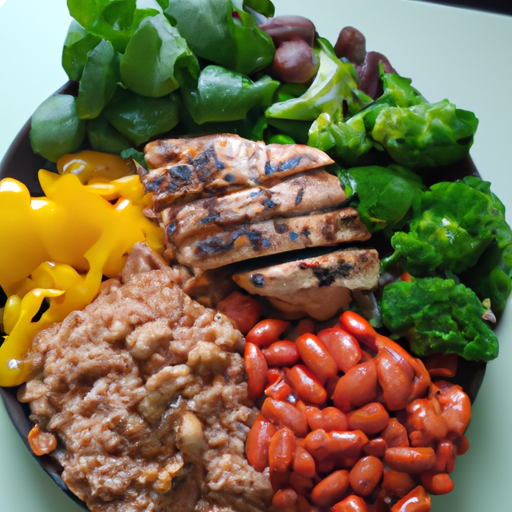 If you're feeling burrito-y, then say hola to burrito bowls! Hold the cheese and sour cream, load up on tomatoes, black beans, avocados and salsa, and you've got a healthy meal on the run!
Or why not wrap it up with some veggie wraps? Moisten a flour tortilla, and stuff it with cucumbers, peppers, mushrooms, onions, and whatever other vegetables you like! Granted, it won't fill you up as much as a burrito bowl, but it's still plenty delicious and satisfying.
Imagine this: a lean burger with all the fixin's, but without the grease and guilt. Go bunless, and top it with lettuce, tomato, onions, pickles, and avocado. Now that's what I call a serious upgrade!
Try slurping down some broth-based soups next time you find yourself at a drive-thru. Broth-based soups typically have more veggies than the creamy concoctions, so choose wisely.
Heading away from the Mexican and Burger joint? Consider an egg sandwich. Avoid cheesy dishes, and opt for scrambles made with veggies like spinach and peppers. Top it off with some ketchup, mustard, or hot sauce, and dig in!
Perhaps you're in the mood for sushi? Then get ready for a healthy treat! For a light snack, opt for cucumber rolls, avocado rolls, and/or veggie rolls.
Fish tacos are another fantastic choice. Skip the fried options, and go for grilled. Pile them high with lettuce, tomatoes, and homemade guacamole.
Last but certainly not least, you can never go wrong with fruit and yogurt parfaits. This one only requires a few simple ingredients: yogurt, some fresh fruit, and maybe a sprinkle of nuts. Yum yum!
Benefits of Eating Healthy Fast Food
Gone are the days when you had to skimp on healthy food choices while dining out. Now, many fast food restaurants have realized the need to provide consumers with healthy options and they've answered the call! Eating healthy fast food can bring a slew of benefits, so if you're in the mood for something quick but still want to make good choices, here's why eating healthy at fast food restaurants is worth it.
For starters, one of the greatest benefits of healthy fast food is that you can still indulge in all your favorite flavors – without all the fat, calories, and sodium! From vegan burgers to grilled fish sandwiches, you can find something that's both mouth-watering and nutritious. Furthermore, many fast food joints now offer snacks and sides to pair with their meals, like baked fries or fruit salads.
Eating healthy fast food can also save you quite a bit of money. You don't necessarily have to sacrifice taste over price — many places are offering budget-friendly menu items that won't break the bank. By choosing a lower calorie option, you'll end up saving money while avoiding an expensive gut bomb.
Another awesome benefit of healthy fast food is that you don't have to leave your house to enjoy it. With the influx of delivery services, you can now get your meal right to your doorstep! So, don't feel like you have to settle for greasy fare just because you don't have time to swing by the drive-thru.
One last benefit I want to mention is that there are plenty of healthy fast food breakfast options. It's all too easy to grab a pastry or sugary cereal from the convenience store, so having a healthier choice makes a huge difference. Many fast food chains offer nutritious items, such as egg white sandwiches or oatmeal with fresh fruit.
All in all, healthy fast food is not only convenient, it's also tasty, affordable, and great for the waistline! So, if you need something quick and delicious, know that you don't have to sacrifice nutrition.
Tips for Finding Healthy Fast Food Options
Ever feel like you don't know where to turn when it comes to finding nutritious takeout? The fast food world can be a tricky one to navigate, but here are a few tips that can help get you on the right track.
First things first, read the nutrition facts! Most restaurants will post the calorie and fat content of their meals, so check that out before you order. Look for meals with fewer than 500 calories, around 10 grams of fat, and more than 5 grams of fiber. It's all about the balance, you know.
Next, choose grilled options over fried, whenever possible. Let's face it – fried food tastes good, but it doesn't always treat your body so good. Try opting for grilled proteins instead – they have tons of flavor and can save you some major calories. Plus, don't forget about the sides – swap out fries for a side salad or a fruit cup and you're golden!
Finally, don't be afraid to mix it up. If you're wanting a burger and fries, try getting a veggie-filled salad with grilled chicken strips and a side of sweet potato fries. Salads aren't always just iceberg lettuce and tomatoes – top them off with some nuts, seeds, and dried fruit for the ultimate nutritious meal.
Finding healthy fast food options may seem overwhelming, but with a little bit of nutritional know-how, you'll never look at takeout the same way again. Bon appetite!
Conclusion
In conclusion, fast food isn't necessarily a bad thing. Eating healthy when going through the drive-thru can be done; it just takes a little extra thought! Knowing what to look for and having options like grilled chicken sandwiches, veggie wraps, salads with lean protein, burrito bowls, broth-based soups, egg sandwiches, sushi, fish tacos, and fruit and yogurt parfaits at your disposal — you'll be able to whip up a delicious, nutritious meal in no time. Eating healthy isn't only good for your body, but it's also great for your wallet since more of your money will be invested in healthier meals.
So, if you're ever in a pinch and need to grab some grub on-the-go, don't beat yourself up — just make sure you're aware of what you're eating so you can still make good decisions. After all, healthiness should never come last!
FAQs About Healthy Fast Food
What is the unhealthiest fast?
When it comes to fast food, it's safe to say that not all options are created equal. While some offer a healthier alternative to traditional home cooking, others can be downright disastrous for your health. In my experience, the unhealthiest fast food is usually anything that's deep fried. From chicken nuggets to French fries, these greasy treats are typically loaded with saturated fat, sodium and empty calories that can easily add up over time.
Other unhealthy options might include burgers, tacos, and pizza, which can also contain high amounts of saturated fat and sodium. And if you're looking to avoid added sugar and artificial sweeteners, then skip the sodas and desserts too. If you're looking for quick, healthier options, your best bet is to stick to food that's grilled, baked or steamed, such as grilled chicken sandwiches, veggie burgers, and salads.
These options tend to be much lower in saturated fat, sodium and calories, thus helping you to maintain a healthy weight. Additionally, look for those that contain a good source of protein, such as grilled chicken, egg whites, or beans, as well as some healthy fat, like avocado or nuts. Although fast food isn't necessarily the healthiest option out there, if you choose wisely, you can manage to get some nutrition out of your meal.
Is KFC a healthy fast food?
I'm no nutritionist, but in my experience, if you're looking for a healthy fast food, you can't go wrong with a grilled chicken sandwich or wrap, with extra veggies and a side of fruit. KFC might not be the best choice, but they do have some lighter options, like grilled chicken, potato wedges and some salads. However, I would advise sticking to the grilled chicken and veggies, as the fried options can contain double the fat and calories. If you're willing to take the time, there are some truly healthy fast food options out there. Subway, for example, has a wide variety of healthy sandwiches and salads, packed with fresh veggies and lean meat. There's also Chipotle, which specializes in burrito bowls with wholesome ingredients like beans, brown rice and fresh veggies. And don't forget the salads you can get from places like McDonald's and Burger King—they may not be the healthiest, but they're still a better option than the burgers and fries. So to answer your question, the healthiest fast food options are most likely going to be ones that are grilled, like chicken sandwiches, wraps and salads. No matter where you go, always be sure to check the nutrition facts and opt for the healthier options when available.
What is the number 1 best fast-food chain?
Based on my experience and research, I'd have to say that the number one best fast-food chain is Chick-fil-A. They offer a variety of options that are both tasty and healthy. Their menu includes a wide range of fresh fruits and vegetables, salads, grilled chicken sandwiches, and low-fat meal choices. They also have egg whites and oatmeal on their breakfast menu, as well as grilled chicken wraps and grilled nuggets. For those looking for a healthier option, they offer many light salads with low-fat dressing and grilled sandwiches. Furthermore, they offer no-fry options, so you can avoid unhealthy fried foods. All in all, Chick-fil-A is a great choice for those looking for a delicious, nutritious, and healthy fast food meal.