Welcome to the World of Vegetarianism for Kids!
As someone who has been a vegetarian for most of my life, I can attest to the incredible benefits of a healthy plant-based diet. But as a parent, I understand the challenges of introducing this lifestyle to our little ones.
However, there are few things more important than educating our kids on the benefits of vegetarianism, not just for their own health but also for the environment. The good news is that it's never too early to start.
In this blog, we'll explore the benefits of introducing vegetarian meals to your kids, and offer tips on how to make meals both attractive and delicious for them. We'll also include a few tried-and-true recipes that your kids are sure to love.
Wowee, let me tell you folks, feeding your kids healthy vegetarian meals is a total game-changer. Not only are you giving them all the nutrients they need to grow big and strong, but you're also doing your part to save the planet. Yeah, that's right – did you know that choosing a plant-based diet is one of the best ways to reduce your carbon footprint?
The Nutritional and Environmental Benefits of Vegetarian Meals for Kids
Let's talk nutrition. When kids eat a variety of fruits, vegetables, whole grains, and protein sources like beans and nuts, they get everything they need to thrive. These foods are chock-full of vitamins, minerals, and fiber that are essential for good health. Plus, studies have shown that vegetarian diets can lower the risk of chronic diseases like heart disease, diabetes, and cancer later in life.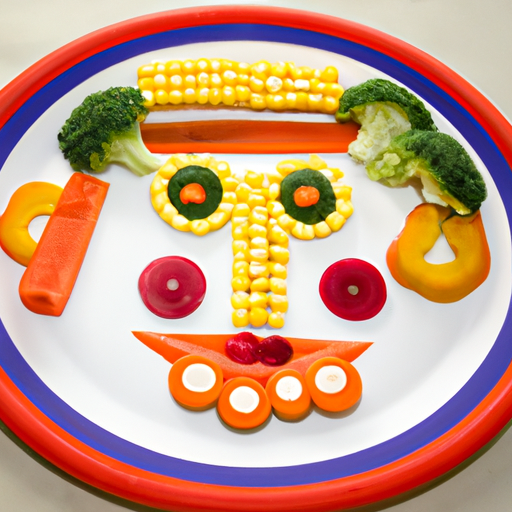 But it's not just about the health benefits. Eating vegetarian meals can also help protect the environment. Animal agriculture is a major contributor to greenhouse gas emissions and deforestation, and it requires a lot of water and other resources. By choosing plant-based meals, we can help reduce the demand for these environmentally damaging industries and promote sustainability.
So, if you want to give your kids the best possible start in life and do your part to protect the planet, vegetarian meals are the way to go. And don't worry, it's not as hard as it sounds!
Check out this guide for more tips and tricks on planning healthy meals for your little ones.
Making Vegetarian Food Yummy for Kids!
Hi there! As a mom of two picky eaters, I understand the struggle of getting kids to try new foods, especially when it comes to vegetarian meals. However, introducing your kids to healthy and delicious vegetarian meals can be a great way to expand their palate and help them develop healthier eating habits. Here are a few tips that have worked wonders for my family:
Incorporate favorite flavors and familiar ingredients
One mistake many parents make when introducing their kids to vegetarian meals is trying to make them too fancy or incorporating unfamiliar foods. Instead, try to use ingredient combinations that your kids are familiar with and enjoy. For example, if your kids love pizza, try making a homemade vegetable pizza with their favorite toppings. If they love pasta, add vegetables to their favorite pasta dish to make it more colorful and nutritious.
Use fun shapes and colors
Kids love anything that looks fun and playful, so why not make vegetarian meals exciting by making them more colorful and shaping them into fun shapes? Use cookie cutters to turn fruits and vegetables into fun shapes, or make a rainbow salad by adding different colored vegetables like cherry tomatoes, carrots, and bell peppers. You can also make veggie burgers or patties in kid-friendly shapes like stars or hearts.
By implementing these tips, your kids will be more likely to try and enjoy new vegetarian meals, and you'll feel good knowing you're providing them with healthy and nutritious options. So, why not try experimenting with some of these ideas and see how you can make vegetarian meals more appealing to your picky eaters?
Delicious Veggie Meals That Even the Pickiest Kids Will Love!
As a vegetarian mom myself, I know how difficult it can be to come up with vegetarian meal ideas that won't be rejected by your kids. But fear not! I've got you covered with some delicious and nutritious vegetarian meal ideas that your kids will actually enjoy. Here are a few of my favorite recipes that are easy to make and will satisfy even the pickiest eaters.
Eggless Omelette
If your kids are big fans of eggs, then this vegan eggless omelette recipe is a must-try. Made with chickpea flour instead of eggs, it is high in protein and has a similar texture to a traditional omelette. Plus, you can add your kids' favorite veggies and seasonings to make it even more appealing. Serve with a side of toast or fruit for a complete breakfast meal.
Macaroni and Cheese
Who doesn't love mac and cheese? This vegan version uses creamy cashews to create a sauce that is just as satisfying as the classic dairy-based sauce. Plus, it's packed with veggies that your kids won't even notice, such as cauliflower and butternut squash. Serve with a side of green beans or a small salad for a hearty and healthy meal.
Veggie Burgers
Veggie burgers are a classic vegetarian meal that both adults and kids can enjoy. They are easy to make and can be customized with your family's favorite toppings. This recipe uses black beans and quinoa to create a veggie burger that is packed with protein and flavor. You can even make a batch and freeze them for an easy weeknight dinner.
Bean Burritos
Bean burritos are a quick and easy meal that kids love. This recipe uses canned black beans and pre-made salsa to save time, but you can always make your own salsa for a fresh and healthy twist. Add some cheese, avocado, and sour cream to make it even more appealing. Serve with a side salad or roasted veggies for a balanced meal.
Grilled Veggie Sandwiches
Grilled cheese sandwiches are a kid-favorite, but why not switch it up with a grilled veggie sandwich? This recipe uses roasted veggies and goat cheese to create a sandwich that is both delicious and nutritious. You can add or subtract veggies based on your family's preferences, and serve with a side of sweet potato fries for a complete meal.
Now that you have these delicious vegetarian meal ideas, there's no excuse not to introduce your kids to the wonderful world of vegetarianism. Give these recipes a try and watch as your kids eagerly ask for more!
Final Thoughts: Let's Give Vegetarianism a Chance
Well folks, we made it to the end of the article! It's been quite the journey, but I hope you're as excited as I am about the potential of vegetarian meals for kids. By introducing healthy, delicious, and appealing plant-based options to their diets, we can help our children obtain the nutrients they need while making a positive impact on the environment.
Remember, incorporating favorite flavors and familiar ingredients, using fun shapes and colors, and getting creative with meal ideas are just a few ways to make vegetarian meals more appealing to kids. And based on the options we discussed, there's no doubt that there are plenty of tasty dishes to choose from.
So, let's give vegetarianism a chance and explore the endless possibilities of plant-based meals that can nourish our children and the planet. It's never too late to make a positive change, and who knows, you may just discover some new favorite meals along the way. Bon appetit!