Get to Know the Amazing Mediterranean Diet
Hey there, health enthusiasts! Are you looking for a new eating plan that can offer you several health benefits? Well, look no further because I've got you covered. Let me introduce you to the amazing Mediterranean diet!
The Mediterranean diet is a popular and healthy eating plan that emphasizes fresh, whole foods that are commonly found in the Mediterranean region. This diet is known to promote overall health and is linked to a variety of health benefits, such as improved heart health, lower risk of diabetes, and better brain function.
What's great about this way of eating is that it's not just another fad diet. In fact, it has existed for centuries, and people living in the Mediterranean area have been enjoying this diet for generations. So, let's dive into the genesis of this diet and its many benefits for our health.
The Fascinating Origins of the Mediterranean Diet
When I first heard about the Mediterranean Diet, I was immediately drawn in by its historical background. As it turns out, this diet has been around for centuries and dates back to the Mediterranean region.
The diet gained popularity as a result of the Seven Countries Study in the 1950s, which showed that people in certain Mediterranean countries had a significantly lower risk of heart disease. In fact, the study found that people living in Italy and Greece had one-third the rate of heart disease compared to people living in the United States.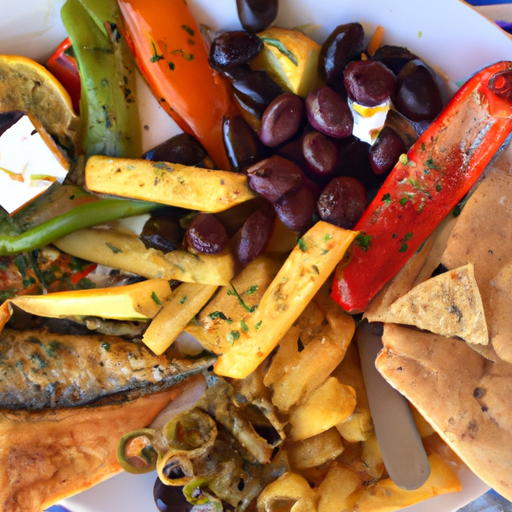 But the Mediterranean Diet is more than just a trend. It's based on the traditional eating habits of people in countries such as Greece, Italy, and Spain.
The traditional components of the diet include high consumption of vegetables, fruits, legumes, whole grains, and healthy fats such as olive oil. Fish and seafood are also mainstays of the diet, as are small amounts of dairy and red wine.
What's remarkable about this diet is that it wasn't created with the intention of being a "diet." Rather, it's simply a way of eating that's been passed down throughout the centuries.
As someone who's passionate about food and the cultural traditions that inform it, I find the history of the Mediterranean Diet to be both fascinating and inspiring.
Discover the Scientific Studies That Confirm the Benefits of the Mediterranean Diet
Are you curious about the health benefits of the Mediterranean diet? Well, let me tell you that there's an abundance of scientific studies that back up its effectiveness. From promoting cardiovascular health to improving cognitive function, this diet has been repeatedly proven to work.
Cardiovascular Health Benefits
Mediterranean diet is known for being heart-healthy, and it's not just an opinion. A study published in the New England Journal of Medicine confirms it. The study followed participants for five years and found that the group who followed the Mediterranean diet had a lower incidence of cardiovascular disease than the control group. Furthermore, the diet can help lower stroke risk and control blood pressure and cholesterol levels.
Diabetes Management Benefits
According to the Diabetes.co.uk, the Mediterranean diet can be an excellent strategy for those with diabetes. An analysis of 32 different studies showed that the diet can help improve glucose control and decrease the need for medication for those with Type 2 diabetes. Plus, this diet has a low glycemic index, which means that it won't spike your blood sugar levels as much.
Cognitive Protection Benefits
The Mediterranean diet is good not only for your body but also for your mind. A study published in the Journal of the American Geriatrics Society found that people who followed the diet had a slower cognitive decline than those who didn't. Additionally, the diet may lower the risk of developing Alzheimer's disease according to a study published in the journal Neurology.
As you can see, scientific studies confirm the incredible health benefits of the Mediterranean diet. If you want to learn how to adopt this diet in an easy way, you can check out this excellent resource on cookbooksandkids.com!
What's on the Menu? Eating Like a Mediterranean Pro
As someone who loves food, I was thrilled to discover that the Mediterranean Diet is not only a healthy way of eating, but also includes some incredible flavors. Here's the low-down on what you should be eating if you want to follow this diet.
Let's Talk Macronutrients
You may have heard some buzz about the Mediterranean Diet being high in fat. It's true that this diet is a bit higher in fat than some others, but it's important to note that these are healthy fats found in foods like olive oil, nuts, and avocados. The Mediterranean Diet is also moderate in protein and carbohydrate intake.
What You Should Choose
When it comes to the Mediterranean Diet, there are some foods that you should focus on. Fresh fruits and vegetables, whole grains, fish, lean meats, and legumes are all great choices. Olive oil is a staple in this diet, and you should try to use it in cooking whenever possible. Nuts and seeds are also great additions to your meals.
What You Should Avoid
While there aren't strict rules about what to avoid on the Mediterranean Diet, there are some foods that are not typically eaten in this way of eating. Processed foods, refined sugars, and unhealthy fats are not typically included in Mediterranean-style meals. It's also less common to eat red meat and dairy products in this diet.
Overall, the Mediterranean Diet is a delicious way of eating that brings many health benefits. Focus on whole, nutrient-dense foods, and don't forget to enjoy the flavors!
Wrapping it Up: Key Takeaways from the Mediterranean Diet
Overall, the Mediterranean Diet is a healthy and balanced way of eating that focuses on fresh and nutrient-dense foods. From a historical perspective, it originated in the Mediterranean region and includes traditional foods such as fruits, vegetables, legumes, whole grains, fish, and olive oil.
Scientific studies have demonstrated multiple health benefits, such as reducing the risk of cardiovascular disease, improving diabetes management, and protecting cognitive function in aging adults.
When following the Mediterranean Diet, it is important to prioritize eating a varied diet that includes macronutrients such as healthy fats, lean protein, and complex carbohydrates. Some foods to choose from include olive oil, nuts, leafy greens, berries, fermented foods, and seafood.
In summary, adopting the Mediterranean Diet can be a great way to improve your health and well-being. By incorporating fresh and healthy foods into your diet, you can experience a multitude of health benefits while enjoying delicious meals with family and friends. So why not give it a try and see how you feel? Your body will thank you!