Ah, trail mix—the snack that packs a punch! Whether you're out on the trail or just chillin' at home, trail mix is always a great munchie choice. Let's break it down: trail mix is made up of nuts, dried fruit, and dark chocolate. Talk about a trifecta of yum! Nuts are high in healthy fats, protein, vitamins, and minerals. Dried fruit gives you antioxidants and sweetness, while dark chocolate adds some delicious cocoa goodness.
So why should you eat trail mix? For starters, it's a great energy booster — perfect for a quick pick-me-up during the day. It's also super easy to make your own mix and tailor it to your specific taste buds. Plus, it's a much healthier alternative to chips and other processed snacks. So don't mellow out — let's learn some more about trail mix!
Nutrition Facts: The Power of Nuts, Dried Fruit, and Dark Chocolate
Who'd'a thunk it? Trail mix is one smart snack. Packed with protein, vitamins and minerals, it provides plenty of energy to help you power through your day. Not to mention all the health benefits that come with noshing on this all-natural snack. Here's the inside scoop on just how good nuts, dried fruit, and dark chocolate can be for you.
Let's start with protein. Protein helps keep our muscles strong, so it's especially important for active people. And trail mix has got ya covered. Almonds, walnuts, and peanuts are some of our favorite sources of protein. Plus, it helps keep us nice and full so we don't have those afternoon snack cravings.
Next up: vitamins and minerals. Nuts are a great source of vitamin E and B, as well as magnesium and selenium. Goji berries, raisins, and other dried fruits have lots of antioxidants like Vitamin C, manganese and potassium. As an extra bonus, dark chocolate (in moderation!) is packed with flavonoids and heart-healthy antioxidants.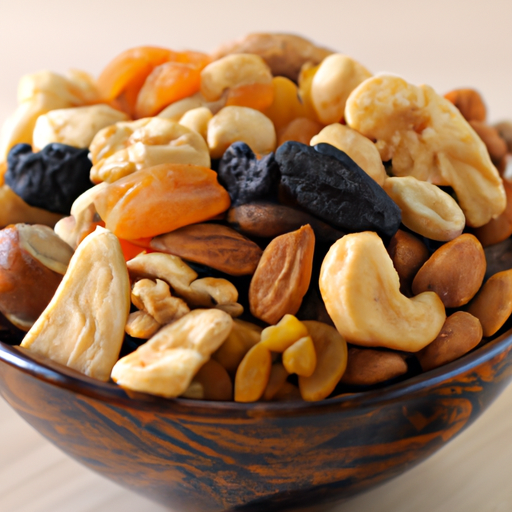 But wait, there's more! All those vitamins and minerals work together to give you some pretty impressive health benefits. For example, they help keep your heart healthy and reduce inflammation. Plus, eating nuts can help lower cholesterol and maintain healthy blood sugar levels. They may even reduce your risk for cancer and other diseases. Last but not least, the antioxidants from dried fruit may help protect against free radical damage.
Recipes for Trail Mix
Let's get cookin'! When it comes to trail mix recipes, there are so many tasty possibilities. If you're in a hurry, go for a simple blend of nuts and dried fruit – a classic combination that's hard to beat.
But if you're feeling creative, why not try spicing things up with a gourmet trail mix? Step up your snack game by adding some dark chocolate chips, coconut flakes, and crunchy cereal pieces. Play around with different flavors and textures to make your own unique trail mix.
No matter which type of trail mix you decide to make, the key is to use high-quality ingredients. Check labels before you buy to make sure you're getting the best nutrition possible. That way, you can enjoy a delicious snack – with all the added health benefits, too!
Safety Information: Keep Your Trail Mix Safe and Healthy
Let's face it: when it comes to snackin', trail mix is the bees' knees. But, if you're gonna keep your trail mix safe, there's a few things you need to consider. First, allergies – are you, or anyone who's eating the mix, allergic to nuts, dried fruit, or dark chocolate? If so, take precautions to make sure everyone gets to enjoy a safe snack. Second, choose high-quality ingredients. As a rule of thumb, buy organic, non-GMO & ethically-sourced goodies whenever possible – you'll get more vitamins & minerals that way anyways.
And finally, use common sense. Check expiry dates on your nut butters, throw out any ingredients that look grey & mouldy, and don't forget to wash your hands after handling raw nuts! No one wants an unexpected trip to the ER.
When it comes down to it, safety should always be a priority in the kitchen – even when it comes to snacktime. Keep these tips in mind, and your trail mix will be as safe as can be.
Conclusion
At the end of the day, trail mix is an excellent snack option. It's packed with all kinds of goodies like nuts, dried fruit and dark chocolate – full of protein, vitamins and minerals. Plus, it can be enjoyed in a variety of ways. From simply concocting your own blend to stepping up your game and making a gourmet version, no matter what taste palette you tickle, there's something for everyone.
But don't forget – safety first. Always be mindful of any allergies or issues you may have and when selecting ingredients, opt for the highest quality products.
Sure, it's easy to get wrapped up in convenience store chip section… but why not try something different? Instead, make your own batch of trail mix and reap the nutritional benefits that come along with it. Not only are you giving your body the nourishment it needs, but you'll also have an awesome snack that's sure to perk you up!
Healthy Snack FAQs
Are dried fruit and nut mixes healthy?
Sure, dried fruit and nut mixes are healthy! When done right, they can be an excellent source of fiber, protein, and healthy fats. Plus, they're a great way to get a variety of vitamins and minerals without eating too many calories.
However, it's important to keep the sugar content in check. Watch out for any added sweeteners and opt for mixes with no added sugar. If you're going to add something sweet, go for dark chocolate chunks since they contain antioxidants.
Overall, dried fruit and nut mixes can make a great snack for kids if you choose the right ingredients. Plus, with some thoughtful additions like seeds, cereals, and even some shredded coconut, you can make the mix even more nutritious and delicious!
Is dried fruit trail mix healthy?
Absolutely! Dried fruit trail mix is an excellent source of nutrients for children. The combination of protein-rich nuts, fiber-filled dried fruit, and antioxidant-rich dark chocolate make for a tasty snack that will help fuel kids for whatever activity they're doing. Not only is this snack packed with plenty of nutrition, but it's also fairly easy to assemble and can be stored in an airtight container for up to a week. Plus, it's something kids can help prepare, making it a more enjoyable experience overall.When making trail mix for children, be sure to avoid adding any foods that may contain allergens, such as peanuts or tree nuts. If a child has a food allergy, opt for dried fruits and crunchy gluten-free alternatives, such as rice cakes or quinoa clusters, instead. Additionally, make sure to keep an eye on portion sizes, as dried fruit and dark chocolate can be high in sugar. All in all, dried fruit trail mix is a healthy snack for kids and can be tailored to fit any dietary needs. Its combination of complex carbs and protein makes for a well-rounded snack that will keep kids energized and focused throughout the day. Enjoy!
What are good things to put in trail mix?
I'm all about finding the most unique snacks for kiddos, and trail mix is one of the most underrated snacks out there. It's easy to make and can be totally tailored to your little one's tastes. So what should you put in your trail mix creation? Well, I say go for the unexpected; get creative!Nuts are a great place to start: walnuts, cashews, almonds, pecans, and hazelnuts all provide crunch, flavor and protein. Add some dried fruit for sweetness and variety: apricots, dates, pineapple, raisins, cranberries, blueberries, and banana chips are all delicious. For an extra level of indulgence, throw in some dark chocolate chips.And don't forget the savory stuff! Roasted sunflower and pumpkin seeds add a nutty flavor and are packed with essential vitamins and minerals. Pretzels, mini-crackers, and even mini-breadsticks are also great mixes to have on hand.If you're feeling extra adventurous, try adding some matcha powder, cinnamon, and a pinch of sea salt. Trust me, it's a flavor combo your little one won't forget! Finally, a pinch of cayenne or even some sugar-free sweetener can give your mix a zingy kick.So there you have it: a great mix of healthy and indulgent ingredients to make your own unique trail mix. With a little bit of imagination, you can easily create a snack that tastes delicious and offers a wide range of nutritional benefits.