Introduction
Hey there, I'm sure you know how important it is to give our kids healthy snacks. With the sugar-loaded options out there, it's not easy to find something nutritious AND tasty! That's why roasted nuts and seeds should be on your radar.
Roasting these snacks brings out their natural sweetness while adding protein and other nutrients that are essential for growing little bodies. In this article, I'll detail why roasted nuts and seeds make great snacks for kids and some tips on how to serve them up. Let's dive in!
Nutritional Benefits of Roasted Nuts and Seeds
As you search for healthy snacks for the kids, roasted nuts and seeds are one option to consider. Not only are they a delicious treat, but they're packed with tons of nutrients that will support your little ones' health and energy needs. Let's explore the nutritional benefits of roasted nuts and seeds, so you can make an informed decision when it comes to providing nutrition for your family.
Perhaps the most well-known benefit of roasted nuts and seeds is their protein content which helps build and maintain muscle, as well as aids in growth. With all the physical activity that kids normally do, they need plenty of protein and adding some roasted nuts and seeds to their diets can help them stay energized while they play and learn. Plus, these treats are loaded with unsaturated fats, vitamins, and minerals like zinc, magnesium and selenium.
When it comes to types of roasted nuts and seeds, there's a whole world to explore. From almonds, cashews, and macadamia nuts to sunflower seeds and pumpkin seeds, your options are endless. Each type of nut or seed contains slightly different levels of essential nutrients, so mix it up if you can!
Different Kinds of Roasted Nuts and Seeds
When it comes to finding healthy snacks for kids, it doesn't get much better than roasted nuts and seeds. From protein-packed almonds to vitamins-filled pumpkin seeds, these tasty snacks are a great way to give your little ones an extra nutrition boost. But how do you know which type to choose? Let's break down the different kinds of roasted nuts and seeds and what makes them special.
Almonds are a nutritious and delicious snack. They're rich in protein and contain unsaturated fats that are good for you and your kids. And with rich flavors like salted caramel and chocolate fudge, there's a variety of ways you can flavor your almonds and make them kid-friendly.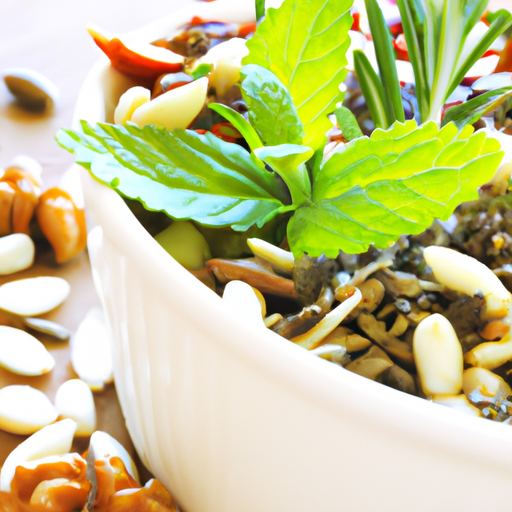 Cashews provide plenty of healthy fats and are low in calories. Pair them with your favorite spices and herbs for an easy, grab-and-go snack for the kids. Try coating your cashews in cumin, coriander, or even red pepper flakes for added flavor.
Sunflower seeds are a great source of protein, and they're especially high in essential minerals like zinc, magnesium, and selenium. Kids will love their crunchy texture and mild nutty flavor, plus you can dress them up in sweet or savory seasonings.
Lastly, pumpkin seeds contain antioxidants and minerals, including iron, zinc, potassium, and magnesium. Plus, their nutty flavor means the kids won't be able to resist snacking on them! Roast your pumpkin seeds with some smoked paprika, garlic powder, and sea salt for an irresistible, healthy treat.
Tips for Serving Roasted Nuts and Seeds to Kids
When it comes to giving your kids a healthy snack, roasted nuts and seeds can be a great option. Here's how to make it a hit with the younger folks in your life.
For starters, try adding a little flavor. Mixing up sweet, salty, and savory options will give them more variety to choose from. Honey-roasted almonds and cinnamon-dusted sunflower seeds are both crowd pleasers. Or why not try adding some chili powder to your pumpkin seeds? That'll put a smile on their faces.
If you want to mix things up a bit, try combining the nuts and seeds with other snacks. A handful of pretzels and peanuts will make a unique trail mix. Or add some pieces of dried fruit like raisins or cranberries to make it a bit fruity.
Finally, the key to getting kids to eat roasted nuts and seeds is to make it fun. Let them pick out which flavors they'd like to try. Or have them help you create a special mixture that only they get to enjoy. It may even become one of their favorite after-school snacks.
Conclusion: Healthy Snacking for Kids is a Win-Win!
It's clear that roasted nuts and seeds are a great snack option for kids — they provide protein, unsaturated fats, vitamins and minerals. Plus they're tasty and fun to eat! You can mix them with other snacks or flavor them different ways, so there's something to please every little taste bud. And the fact that they're packed with nutrition makes it an easy win-win. So if you're looking for a healthy snack for your kiddos, give roasted nuts and seeds a try the next time you hit the supermarket.
At the end of the day, everyone wants to give kids what's best for them. And when it comes to healthy snacking, roasted nuts and seeds are a great choice. So grab a handful, snack away, and be sure to smile as you do – after all, happy and healthy kids are what matter most!
Healthy Snack FAQ
What nuts are snacks for children?
When it comes to snacks for kids, peanuts, almonds, cashews, sunflower seeds and pumpkin seeds are all options for them to enjoy. Not only are these snacks delicious, but they also provide essential nutrients. Peanuts contain healthy fats, protein, vitamins and minerals, while almonds offer fiber and healthy fats. Cashews contain vitamins and minerals, and sunflower and pumpkin seeds offer protein and healthy fats.
Another great way to introduce your kids to these snacks is to roast them. Roasting nuts and seeds helps to bring out the natural flavors and makes them a tasty snack. You can also add some spices and flavorings to make them even tastier. For example, lightly coating the nuts and seeds in olive oil and your favorite herbs before roasting them will result in a savory, crunchy snack that your kids will love.
Looking for a more creative snack for kids? Try making your own nut and seed bars. All you need are your favorite nuts and seeds, a few ingredients such as honey, peanut butter or agave, and optional flavorings such as cocoa powder or dried fruit. Simply mix the ingredients together and press the mixture into a parchment-lined baking pan. Bake for 20-30 minutes and you have a delicious and healthy snack for your kids to enjoy!
Are nuts and seeds healthy snacks?
Sure, nuts and seeds are some of the healthiest snacks around. They're chock-full of proteins, fiber, and healthy fats. Plus, they're crunchy and delicious. Whether it's roasted almonds, sunflower or pumpkin seeds, or any combination thereof, they're a great way to get your kids to eat healthier.
For a more nutritious snack, try roasting your own nuts and seeds at home. It's easier than you think and tastes better than store-bought, so you know you're giving your kids something really healthy. Simply toss the nuts or seeds with some oil and your favorite seasonings and bake on a baking tray. Or, toss them in a pan and toast over medium heat until they're golden and fragrant.
When roasting nuts and seeds, be sure to keep an eye on them; they can burn easily. And, as with any snack, enjoy in moderation. Nuts and seeds are calorie-dense, so a little bit goes a long way.
Bottom line: Nuts and seeds can be a great snack for kids. Just make sure to roast them properly and enjoy in moderation for optimal nutrition and deliciousness.
What goes well with nuts as a snack?
Well, I think when it comes to snacks for kids, it's important to focus on something that's both delicious and healthy. Roasted nuts and seeds are great for this – but I think it's important to pair them with other items to make a complete snack. Some of my favorites include crunchy, savory fruits and veggies like bell peppers, carrots and celery; grains like popcorn, oatmeal, and whole-wheat pretzels; and protein-rich dips like hummus, peanut butter and Greek yogurt. You can also add a little bit of sweetness by adding dried fruit, dark chocolate chips, or jams. With these pairings, you can provide a well-rounded snack that's not only nutritious and healthy, but also something your kids will love!