Introduction
Snacking is an important part of life, especially for growing kids! But it gets tricky to make a snack that won't weigh them down with sugar or artificial ingredients. Well, I'm here to tell you that there's a delicious snack out there that not only tastes awesome but has great nutritional benefits too – and it couldn't be easier to make!
In this blog post, I'll lay out what you need to make this tasty treat, the nutrients it packs, and some fun variations to match any kid's taste buds. So, let's get to snacking!
Ingredients and Preparation
When it comes to cooking up a tasty snack for kids, you'll first need to know what ingredients to grab off the shelf. For this go-to recipe, I suggest stocking up on some oats, sea salt, nuts (walnuts are my favorite!), raisins, dark chocolate chips, sunflower seeds, and honey.
Now for the fun part—it's time to get cookin'! The first step is to preheat your oven to 350 degrees F. Next, mix together the oats, salt, nuts and seeds in a large bowl. Once they're all combined, add the honey and stir until everything is coated evenly.
After that, spread the oat mix on a baking sheet and pop it in the oven. After about 18 minutes, take it out and let it cool while stirring in the raisins and chocolate chips. And voilà, your children will surely enjoy a delicious snack full of vitamins and nutrients!
Nutritional Benefits
Snacking is a great way to sneak in some extra nutrition for kids, so when crafting snacks it's important to think about the nutritional benefits they provide. This snack is packed with protein and healthy fats that are essential for growing bodies, plus some complex carbohydrates for energy.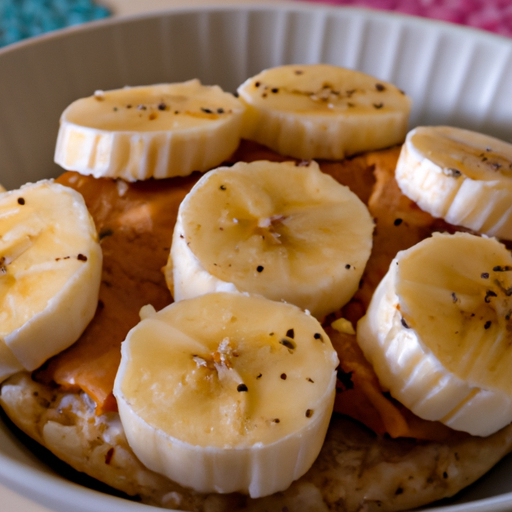 Let's start with the protein. This snack is loaded up with creamy peanut butter, which is a good source of protein that also provides beneficial fats for healthy brain development. Plus, peanuts are a rich source of vitamins, minerals and fiber, making them a nutritious choice for your family.
Healthy fats are essential for keeping kids energized and satiated, and this snack delivers those too. The peanut butter is a good source of unsaturated fats, plus there's the added bonus of omega-3 fatty acids from the flaxseed. Omega-3s are important for supporting brain health and promoting healthy immune systems.
Finally, you've got complex carbs coming from the whole wheat bread. Whole grains provide energy-boosting carbohydrates and lots of valuable vitamins and minerals. This snack is sure to keep little ones fueled up and ready to go.
Serving Suggestions
If you're looking to take your kid's snack game to the next level – I've got just the ideas for ya! There are lots of variations on this particular snack that will keep your kids excited and interested in trying something new. First off, you can mix up different types of fruits, seeds and nuts together – using things like blueberries, cranberries, sunflower and pumpkin seeds or walnuts. You can also try adding some shredded coconut into the mix for a sweet crunch.
Now, if you're feeling a bit adventurous, why not try something totally out of the box? Things like dried edamame beans add a delicious salty taste, while goji berries provide an interesting tart flavor. For an even stronger kick, try adding some cacao nibs or elderberry powder on top – it'll be sure to wow the whole family.
Finally, don't forget there are plenty of ways to ramp up the nutrition content of your kid's snacks. Things like hemp hearts, chia seeds and dark chocolate offer loads of healthy fats, protein and antioxidants which are essential for growth and development. Adding a dollop of nut butter is a great way to add protein and help keep those little bellies full until the next meal.
Conclusion: A Delicious and Nutritious Way to Fuel Your Kids' Growth
As a parent, I've always been on the lookout for easy, delicious snacks that can help fuel my kids' growth. And this tasty snack definitely fits the bill! Not only is it a great way to get some extra protein, healthy fats, and carbohydrates into your kids' diet, but it's also quick and easy to make with minimal prep required. Plus, there are so many variations you can come up with to keep things interesting.
I'm all about helping kids develop healthy eating habits, so why not make snacking fun? This is one way you can do that – try out some of our suggested variations to keep things exciting and tasty. Bottom line: snacking doesn't have to be a guilty pleasure. It can be a delicious, nutritious way to keep your kids growing strong!
Healthy Snack FAQs
What tastes good on rice cakes?
Well, there's a whole world of tasty toppings out there for rice cakes. You could try cream cheese and honey, peanut butter and jelly, or hummus and veggies. Another great idea is to melt some cheese on top or sprinkle dry herbs or other spices. You could also get creative with some savory combinations like avocado and smoked salmon, or tuna and lime. Don't be afraid to get adventurous and try something new – you might just surprise yourself!
For something really special and delicious, try a combination of nut butter and banana slices. The creamy nut butter complements the crunchy rice cake perfectly, while the sweet banana slices add a delicious depth of flavor. And you can't go wrong with the classic PB&J, either! Whatever combination you choose, your kids are sure to love it.
Are rice cakes an ok snack?
Absolutely! Rice cakes are an underrated snack that can be a great treat for kids. They're low in fat and calories, yet surprisingly filling – and they're a great source of complex carbohydrates, too. Plus, they're versatile – get creative and top them with fruit, nut butters, cheese, or yogurt! For a healthy, grab-and-go snack, try spreading almond butter and banana slices on top of a rice cake. Not only will it satisfy kid's cravings for something crunchy, sweet, and salty all at the same time, but it'll give them a good dose of important vitamins and minerals, too!
Are rice cakes and peanut butter a healthy snack?
Yes, rice cakes and peanut butter can be a healthy snack, but it all depends on the ingredients used. To make sure this snack is as nutritious as possible, I suggest using all-natural, unsalted peanut butter with no added sugars or fats. Additionally, try to find brown rice cake varieties that are free from additives, preservatives, and artificial flavors.
For extra nutrition, top the rice cakes with fresh pieces of banana and a small amount of almond butter for a dose of healthy fats and protein. Keep in mind that portion size is key when it comes to snacking, so only add enough ingredients to make two or three small snacks. With these tips in mind, you can create a nutritious and tasty snack that your kids will love!