Fuel Up with Easy-peasy Energy Balls
Hey there, snack lovers! Are you tired of grabbing unhealthy snacks from vending machines? Well, it's time to try something new and delicious: Energy balls! These bite-sized snacks are packed with energy-boosting ingredients that keep you full and satisfied, all while being super easy to make.
Let me break it down for you – energy balls are small, portable snacks made from a combination of healthy ingredients like peanut butter, raisins, honey, oats, and chocolate chips. These ingredients work together to provide a quick energy boost and keep you going throughout the day. Plus, they're easy to customize to your taste by swapping out ingredients or adding spices.
So, why choose energy balls over traditional snacks? For starters, they're healthier! Many store-bought snacks are loaded with sugar and unhealthy fats, but energy balls are filled with natural ingredients that nourish your body. Plus, they're perfect for on-the-go snacking, pre/post-workout fuel, and even dessert.
What's not to love? Join me in making a batch of easy-peasy energy balls and prepare to enjoy the tastiest and healthiest snack ever!
Ingredients: What You'll Need to Make the Best Energy Balls
Hey there, snack-lovers! Before we start to prepare these delicious energy balls, we need to make sure we have all the right ingredients at hand. Here's what you'll need: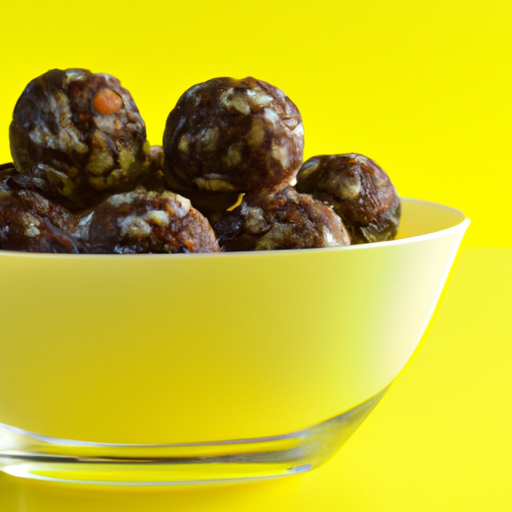 And that's it! Super simple, right? You might even have all of these ingredients in your pantry already. If not, make sure to check out your local grocery store or farmer's market. Let's get started!
Now, I know what you're thinking – why these ingredients, specifically? Well, peanut butter is a great source of protein and healthy fats, which will help you feel fuller for longer. Raisins are a natural sweetener that will give our energy balls a yummy flavor. Honey is also a great natural sweetener, plus it's packed with antioxidants. Oats are a good source of fiber, which will help keep our digestive system happy. And, let's be real, chocolate chips just make everything better!
If you're looking for more creative ideas for healthy snacks for kids, be sure to check out Cookbooks and Kids, a fantastic resource for yummy and nutritious snack ideas.
Get Your Hands Dirty: Making the Energy Balls!
Now that we've got our ingredients sorted, it's time to get into the fun part: making the energy balls! First thing to do is set out all of our ingredients on the kitchen counter. Make sure they're all measured out and ready to go.
Then, take out a large mixing bowl and add in the peanut butter, raisins, honey, and oats. Mix all of these ingredients together with a wooden spoon or spatula. You should have a thick, sticky mixture that holds together when you roll it into a ball.
Next, fold in the chocolate chips, mixing them in evenly with the rest of the ingredients. The chocolate chips will add a nice sweetness and crunch to the energy balls.
Now, it's time to form the mixture into small balls. Take a spoonful of the mixture and roll it between your palms, gently pressing down as you go to form a firm ball. Repeat this process until all of your mixture has been used up.
Finally, it's time to chill the energy balls in the refrigerator for at least 30 minutes. This will help them set and become easier to eat.
Voila! You're now ready to indulge in some delicious, healthy energy balls. You can keep them in the fridge for up to a week, making them a perfect grab-and-go snack for when you need a quick boost of energy.
4. Get Creative with Your Energy Balls!
Don't limit yourself to just popping energy balls as a quick snack. There are so many tasty ways to enjoy them! Here are a few serving suggestions:
For lunch: Pair your energy balls with sliced veggies and whole wheat crackers for a balanced and satisfying lunch. You can also add them to a wrap or salad for an extra boost of protein.
As a snack: If you're looking for a post-workout snack or just need a little something to hold you over until dinner, energy balls are a great option. Enjoy them on their own or pair them with some fresh fruit or a smoothie for a complete snack.
As dessert: Who says healthy snacks can't be sweet? Roll your energy balls in coconut flakes or crushed nuts for a little extra flair. They're also a great addition to a bowl of yogurt or a warm bowl of oatmeal.
Get creative and try out different serving combinations until you find your favorite way to enjoy these delicious, healthy treats!
Conclusion: Eat These and Feel Good!
Well, there you have it! Energy balls are simply amazing. They are delicious, healthy, and so easy to make. Seriously, why would anyone in their right mind choose junk food over these heavenly balls of energy?
In this blog, I shared with you a recipe for energy balls that are so easy to make, even a kid can do it. And the ingredients are simple, natural, and affordable. For example, peanut butter is an excellent source of protein, and although it contains some fat, it is mostly unsaturated and good for your heart. Raisins are packed with vitamins and fibers, and honey is a natural sweetener that won't make your blood sugar spike. Oats are a great source of carbohydrates and fibers, and chocolate chips, well, let's face it, they just make everything taste better.
So, the next time you or your kids crave a snack, why not make energy balls? They are perfect for lunchboxes, after-school treats, or even as a dessert. You can serve them with fruit, yogurt, or a glass of milk. And best of all, you will feel good knowing that you are providing your body with the fuel it needs to stay active and healthy.
So, what are you waiting for? Go ahead, make some energy balls, and enjoy the deliciousness and goodness they bring. Your taste buds and body will thank you for it!