Energize Your Day with Homemade Energy Balls
Hey there! Are you looking for a simple and delicious snack to give you a boost of energy during your busy day? Look no further than oat-based energy balls! These little snacks are packed with nutrients and can be easily customized to your taste preferences.
First things first, what exactly are energy balls? Simply put, energy balls are small, dense snacks made from a combination of ingredients that provide a quick burst of energy. Oat-based energy balls are a popular choice for those looking for a healthier snack, as oats are a great source of fiber and protein.
So why should you choose oat-based snacks over other options? Well, for starters, they're incredibly easy to make. All you need is a few ingredients and a blender or food processor. Plus, oats are known to provide long-lasting energy, which can help you power through your day without feeling sluggish.
Get Rolling with Oat-Based Energy Balls
Are you on the hunt for a quick and healthy snack that you can take on the go? Look no further than oat-based energy balls! These delicious treats pack a powerful punch of fiber, protein, and healthy fats, making them the perfect fuel for a busy day. Plus, they're totally customizable, so you can create a flavor that suits your taste. Here's how to get started:
Gather your ingredients
To make a basic oat-based energy ball, you'll need: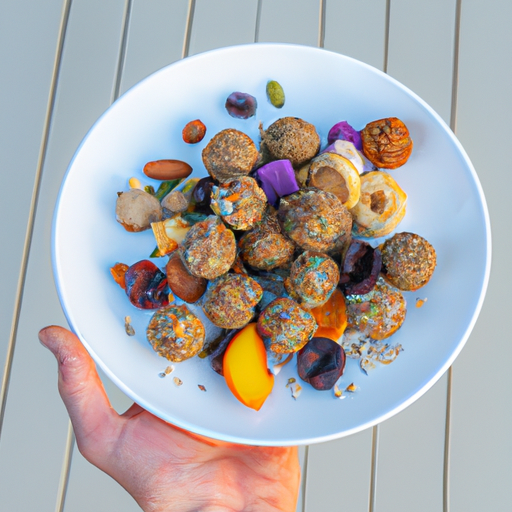 Once you have your ingredients, the recipe is simple. Just mix your oats, nut butter, honey or maple syrup, and salt in a large bowl until well combined. Then, stir in your mix-ins until the mixture is evenly distributed.
Next, use your hands to roll the mixture into bite-sized balls. Pro tip: wet your hands with a little bit of water before rolling – this will keep the mixture from sticking to your hands.
Time to Chill
Once you've rolled all of your balls, place them in the fridge for at least an hour to firm up. This will make the texture chewier and easier to eat on the go.
And voila – you've just made your own oat-based energy balls! But don't stop there – this recipe is just the beginning. Here are a few ways you can switch it up:
Experiment with Variations
Flavorings: Try adding in flavors like vanilla extract, cinnamon, or ginger.
Protein Sources: Mix in chia seeds, hemp seeds, or protein powder for an extra boost.
Low-Sugar Alternatives: Swap the honey or maple syrup for a lower-sugar sweetener like stevia or agave.
So there you have it – the ultimate guide to making your own oat-based energy balls. Give it a try and let me know what variations you come up with!
Get Creative: Variations on the Oat-Based Energy Balls Recipe
Now that you've mastered the basic oat-based energy balls recipe, it's time to get creative and experiment with different flavorings, protein sources, and low-sugar alternatives. Here are some ideas to get you started:
Flavorings
While the original recipe calls for vanilla extract, you can switch it up by adding different flavorings. Try adding almond extract, cinnamon, or even some unsweetened cocoa powder for a chocolate twist. If you're feeling bold, you could even add some cayenne pepper or turmeric for a spicy kick.
Protein Sources
While the original recipe is vegan-friendly and uses plant-based protein, you can experiment with adding different sources of protein. Try adding some whey protein powder, collagen powder or even some finely chopped nuts or seeds for added protein and crunch.
Low-Sugar Alternatives
If you're looking for a low-sugar alternative to the original recipe, you can swap out the honey for a natural sweetener like maple syrup or agave. You could even leave out the sweetener altogether and rely on the natural sweetness from the dates.
Remember, the sky's the limit when it comes to customizing your oat-based energy balls, so don't be afraid to get creative and experiment with different ingredients. Happy snacking!
Concluding Thoughts on Oat-Based Energy Balls
Well folks, I'm positively stuffed! I've spent the afternoon making batch after delicious batch of oat-based energy balls, and boy oh boy, were they tasty. Not only are these little snacks easy to whip up in a jiff, but they offer a host of health benefits that make them the perfect snack for on-the-go, big and small alike.
If you're looking to switch things up, try experimenting with the recipe to create your own unique variations. For those with a sweet tooth, try adding in some chocolate chips or dried fruits for an extra burst of flavor. Wanting to pack in some extra protein? Consider substituting some of the rolled oats for protein powder or peanut butter to give you the boost you need to power through your day.
Overall, I can't recommend energy balls enough as a healthy, satisfying snack option. Don't just take my word for it though! Head on over to Cookbooks and Kids to discover even more delicious and healthy snack ideas that your whole family is sure to love. Happy snacking!