Let's spice up our kids' meals with some herbs!
Hey there! Are you tired of cooking the same bland meals for your kids every day? Do you want to make their meals healthier and more flavorful? Well, I have just the solution for you – herbs and spices! Not only do they add delicious flavor to meals, but they also come with various health benefits.
First of all, let's define what herbs and spices are. Herbs are the leaves of plants, while spices are the roots, bark, and seeds of plants. They come in various forms – fresh, dried, ground, or whole.
Adding herbs and spices to your kids' meals can do wonders for their health. Some herbs have anti-inflammatory, antiviral, or antibacterial properties, while spices can help regulate blood sugar and improve digestion. Plus, using these natural flavorings can reduce the need for added salt and sugar in meals, making them even healthier.
Get Your Kids to Love Healthy Meals with These Yummy Recipes!
Hey, moms and dads! Are you tired of your kids complaining about their meals? Are you looking for ways to sneak in those healthy greens while still keeping them satisfied? Well, I've got some tasty recipes that will make your kids love eating their veggies! Plus, we'll add in some herbs and spices to add more flavor and nutrition to their meals. Trust me, they won't even notice the difference!
Quick and Easy Pasta with Green Pesto
This pasta dish is not only quick to make, but it's also a great way to add some greens to your kid's diet. Here's what you'll need: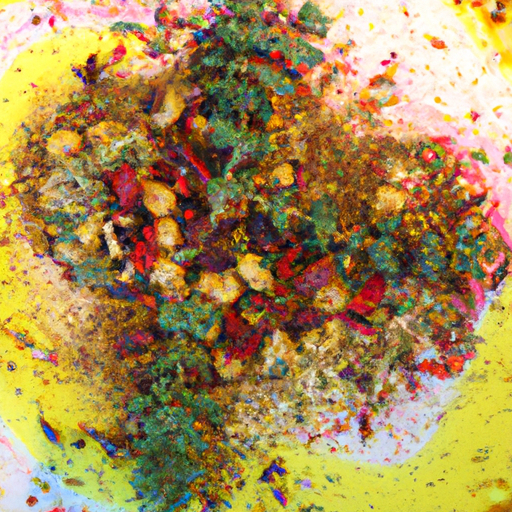 Just cook your pasta according to the package directions, then blend all the ingredients for the pesto in a food processor until smooth. Toss the cooked pasta with the pesto, and you're done! Serve with a side of veggies for a complete meal.
Rotisserie Chicken Stew with Fresh Herbs
This hearty stew is loaded with the goodness of rotisserie chicken and fresh herbs, perfect for a chilly day. Here's what you'll need:
1 rotisserie chicken, shredded
1 onion, chopped
2 carrots, chopped
2 celery stalks, chopped
3 garlic cloves, minced
4 cups of chicken broth
2 bay leaves
2 sprigs of fresh thyme
2 sprigs of fresh rosemary
2 tablespoons of butter
1/4 cup of all-purpose flour
Salt and pepper to taste
In a large pot, sauté the onion, carrots, celery, and garlic in butter until tender. Add in the flour and stir until smooth. Pour in the chicken broth and stir until the mixture thickens. Add in the shredded chicken, bay leaves, thyme, and rosemary. Let the stew simmer for about 20 minutes or until the veggies are tender. Add salt and pepper to taste. Serve with some crusty bread and enjoy!
Cauliflower Rice Pilaf with Garlic and Parsley
Who says rice has to be boring? This cauliflower rice pilaf is a great low-carb alternative that's just as tasty as the real thing. Here's what you'll need:
1 head of cauliflower, riced
1 onion, chopped
2 garlic cloves, minced
2 tablespoons of olive oil
1/4 cup of fresh parsley, chopped
Salt and pepper to taste
In a large skillet, sauté the onion and garlic in olive oil until tender. Add in the cauliflower rice and stir until it starts to soften, about 5 minutes. Stir in the chopped parsley and season with salt and pepper. Serve as a side dish or topped with your favorite protein for a complete meal.
These recipes are just a few examples of how you can incorporate herbs and spices into your kid's meals. Remember to experiment with different combinations to find what your little ones like best. For more tips and recipes, check out this post on my blog. Happy cooking!
Tips for Cooking with Herbs and Spices
Are you a beginner when it comes to using herbs and spices in your cooking? Don't worry, I've got you covered. I have plenty of experience experimenting with these flavorful ingredients and have some tips to share.
First and foremost, fresh herbs are always preferable to dried herbs. They provide a brighter and fresher taste to your dishes. However, dried herbs have a more potent flavor, so be sure to use them sparingly.
When it comes to using spices, it's best to start off with small amounts. Spices can be overpowering, especially for young taste buds. It's easier to add more spices gradually than to dilute an overly spicy dish.
Experimentation is key to achieving delicious and unique flavors in your cooking. Don't be afraid to try different combinations of herbs and spices. One of my favorite pairings is cumin and coriander for an Indian-inspired dish.
Finally, if you are using dried herbs, remember that they lose their potency over time. If you're unsure if your dried herbs are still good, give them a sniff. If they don't smell strong, it's time to replace them.
With these tips in mind, you'll be able to enhance the flavors in your kids' meals with herbs and spices. Don't be afraid to get creative in the kitchen!
Wrapping It Up: Adding Herbs and Spices to Kids' Meals
So, there you have it! As a busy parent, I know the struggle of getting my kids to eat healthy, nutritious meals. But with the added benefits of herbs and spices, it's easier than ever to create flavorful meals that even the pickiest eater will love.
Don't be afraid to step outside of your comfort zone and try something new – whether it's a new herb or spice, or a completely different recipe altogether. The beauty of cooking is that you can always experiment and find what works best for you and your family.
Remember to always use fresh herbs whenever possible, start off with small amounts of spices, and don't be afraid to mix and match different flavors. Who knows, you may just create a new family favorite!
So, go ahead and give these recipes a try, and see how herbs and spices can transform your kids' meals into healthy and delicious creations!