The Fussy Eating Battle: How I Overcame the Struggle as a Parent
Don't get me wrong, I love my children more than anything in this world, but feeding them, especially when they were fussy eaters, was a struggle. As a parent, I know how challenging it can be to get your little ones to eat their veggies without a meltdown.
Fussy eating, defined as being picky or selective about food, can leave parents feeling frustrated and defeated, and it's a widespread issue among kids. However, after years of experience, I have some tricks up my sleeve to make mealtime a little easier for both parents and kids.
Hey, parents! Got a picky eater at home? Don't worry, I've been there too. It's a struggle to get them to eat something other than chicken nuggets and french fries, but there are ways to make it easier. Here are my top tips for dealing with fussy eaters:
Pull kids into meal planning
Getting your kids involved in meal planning can give them a sense of control over what they're eating. Try having them pick out a new vegetable to incorporate into their favorite pasta dish. Who knows, they might actually like it!
Introduce new foods slowly
Don't overwhelm your child with new foods all at once. Take baby steps and introduce one new food at a time. If they refuse it, don't force it! Just try it again at a later time.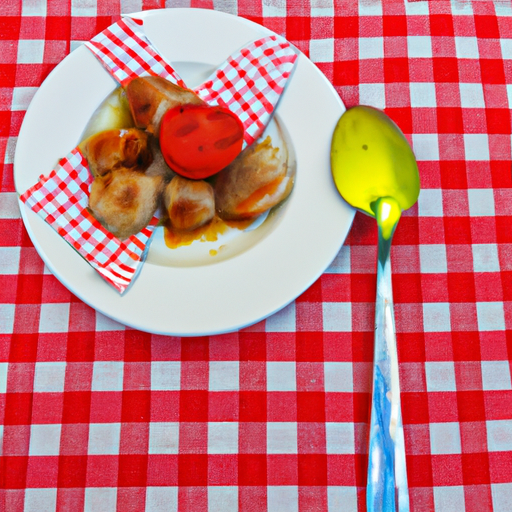 Incorporate fun and exciting elements into meals to make them more exciting. For example, try making "ants on a log" with celery, peanut butter, and raisins for a fun snack. Or, make pizza together with their favorite toppings.
Keep a positive attitude
Remember, mealtimes should be enjoyable! Refrain from negative language or pressuring your child to eat. Instead, model positive eating behaviors and focus on the positive steps they take towards being more open to trying new foods.
Healthy and Creative Meal Ideas to Satisfy Your Fussy Eater
Meal planning for children can be a struggle, especially when they are picky eaters. But as a parent, it's essential to provide healthy and nutritious meals to promote their growth and development. Here are some creative meal ideas that can help make mealtime more exciting for your fussy eater.
Quick and Easy Lunches
Some simple sandwiches can be transformed into fun and exciting lunches that your child will love. One idea is to create a "sushi sandwich," where you put peanut butter and jelly or turkey and cheese on a slice of bread, flatten it with a rolling pin, and then wrap it up like sushi. Another option is to make mini pizzas on English muffins or bagels with your child's favorite toppings.
Vegetarian Dinner Ideas
If you're trying to incorporate more vegetarian meals into your family's diet, try making a savory vegetable stir-fry with rice or quinoa. Another dinner option is to create a "build-your-own" taco bowl with black beans, rice, cheese, and plenty of veggies like peppers, tomatoes, and avocado. These dishes are delicious, nutritious, and easy to customize to your child's tastes.
Balanced Snacks
It's essential to keep your child's energy levels up with healthy snacks throughout the day. Try making a fruit salad or smoothie for a refreshing snack, or create a "snack plate" with sliced veggies and hummus, cheese and crackers, and nuts and dried fruit. These snack ideas are not only delicious but also provide a balance of protein, carbohydrates, and healthy fats.
Overall, meal planning can be challenging, but it's essential to keep trying new things and providing a balanced diet for your fussy eater. With a bit of creativity and patience, you can make mealtime fun and nutritious for your family. For more meal planning strategies and ideas, check out this helpful article from Cookbooks and Kids!
Wrap It Up: Tricks and Tips for Dealing with Picky Eaters in Children
Well, there you have it, folks! It's been a wild ride discussing tips and tricks for managing picky eaters in children. Let me tell you, as a mom of two picky eaters, I understand how frustrating it can be to get your little ones to try new foods. However, with a positive attitude, creativity, and patience, it is possible to make mealtimes enjoyable and nutritious for all.To recap, involving your children in meal planning and grocery shopping can be a fun way to get them excited about trying new things. It's essential to introduce new foods in small steps and pair them with familiar, preferred foods to encourage acceptance. Making meals fun and exciting can help to increase kids' willingness to try new foods. And, finally, keeping a positive attitude throughout the process is crucial.Now let's move on to some examples of healthy and creative meals. Quick and easy lunches, like turkey and cheese roll-ups or veggie and cream cheese pinwheels, can be a hit with kids. For vegetarian dinner ideas, consider making vegetable stir-fry or veggie burgers with toppings like avocado and cheese. Don't forget about balanced snacks like apple slices and peanut butter or trail mix with nuts, seeds, and dried fruit.So, parents, don't lose hope! With the right strategies and a bit of creativity, you can help your picky eaters develop healthier eating habits that will benefit them for the rest of their lives. Remember to stay positive, and never give up. Good luck!