Introducing the Wonderful World of Energy Balls
Hey there! Are you tired of the same old snacks for your kids? Are you looking for something that is both delicious and nutritious? Look no further! I am here to introduce you to the amazing world of energy balls.
If you haven't heard of energy balls before, don't worry. They are a quick and easy snack that is made up of simple, wholesome ingredients. These snack-sized bites are perfect for hungry kids on the go, and can be enjoyed as a mid-day pick me up or a post-workout snack.
But what makes energy balls so special? Well, for starters, they are packed full of energy-boosting ingredients such as nuts, seeds, and dried fruits. They also provide a good source of protein and healthy fats, which can help your kids stay fuller for longer.
Apart from being a healthy and convenient snack option, energy balls also come in a variety of delicious flavors your kids will love. From the classic Peanut Butter & Jelly to the more adventurous Carrot Cake or Apple Pie Protein, there is an energy ball flavor for every palate.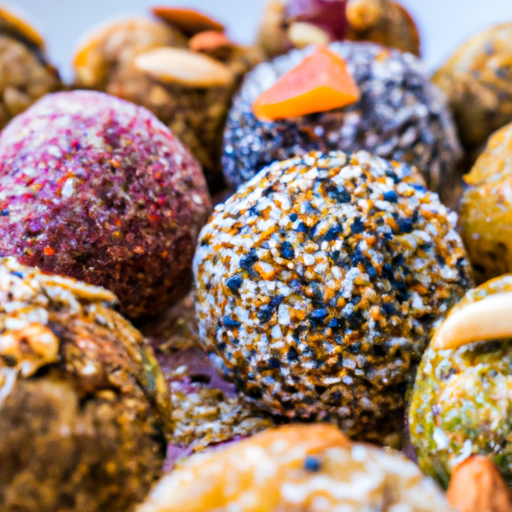 I can't wait to share with you my favorite energy ball recipes, all of which are easy to make and customizable to fit your child's tastes. So, let's get started with these yummy and nutritious snacks!
Energy Balls – The Superhero Snack for Kids!
Let me tell you a secret – energy balls are not just another healthy snack – they are small, mighty, and perfect for kids! These little balls of goodness have the power to keep your little ones energized throughout the day.
Why Energy Balls are the Perfect Snack for Kids?
First things first – no kid likes to eat boring, bland snacks, right? That's where energy balls come in! They are an incredibly tasty and fun snack that kids would love to munch on. Secondly, kids constantly need energy to stay active and focused, and energy balls are packed with nutrients that provide instant and sustained energy.
Benefits of Energy Balls for Kids
From a mom who has been making energy balls for her kids for years, let me share some of the many benefits of this superhero snack:
Boost energy levels
Improve brain function and concentration
Increase muscle strength and endurance
Enhance immune system
Promote healthy digestion
Support healthy growth and development
All of this in a tiny, delicious snack – amazing, right?
Expert Tip for Making Energy Balls for Kids
Want to make sure your energy balls are a hit with your kids? Here's a pro tip – involve your kids in the process! Let them help you choose the ingredients and mix them together. This will make them feel a sense of ownership over the snack and encourage them to eat it.
So, say goodbye to boring snacks and hello to delicious, nutritious energy balls for your little ones!
10 Delicious and Nutritious Energy Ball Recipes
Alrighty folks, get ready to whip up some tasty and healthy snacks for your little ones with these easy-to-follow energy ball recipes. First up, we have the classic Peanut Butter & Jelly Energy Balls. These babies are a hit with kids and adults alike. Just mix together some peanut butter, jelly, oats, honey, and a few other ingredients, and you're good to go.If your kiddo is a fan of chocolate chip cookies, try making them these Chocolate Chip Cookie Dough Energy Balls. They're packed with protein and have all the chewy goodness of cookie dough, but without the raw egg.For a more wholesome option, give these Oatmeal Coconut Raisin Energy Balls a go. They're made with coconut flakes, rolled oats, raisins, and a touch of honey. Perfect for when you need a quick and satisfying snack.If you're feeling adventurous, try these PB&J Granola Energy Balls. They're loaded with nuts, seeds, oats, and of course, peanut butter and jelly. A great snack for active kids who need a little extra fuel.For a nutty and sweet option, make these Coconut Cashew Energy Balls. They're made with coconut flour, cashews, dates, and a pinch of sea salt. Plus, they're gluten-free and vegan!The No Bake Trail Mix Energy Balls are perfect for a day spent outdoors. They're made with healthy ingredients like nuts, seeds, dried fruit, and dark chocolate. Just roll 'em up and pop 'em in your backpack for a quick and energizing snack.Who doesn't love apple pie? These Apple Pie Protein Energy Balls are a healthier take on the classic dessert. They're made with apples, almond butter, oats, and protein powder. Yum!For a bit of a crunch, try these Honey Almond Energy Balls. They're made with almonds, oats, and honey, and have a crispy coating of chia seeds on the outside. They're a total crowd-pleaser.Your little ones won't even know they're eating veggies with these Carrot Cake Energy Balls. They're made with carrots, almond flour, dates, and a yummy blend of spices. A delicious way to get some extra vitamins in their diet.Last but not least, we have these Banana Bread Energy Balls. They're made with mashed bananas, almond flour, oats, and a touch of maple syrup. They taste just like banana bread, but without all the sugar and processed flour. There you have it, folks. Ten delicious and nutritious energy ball recipes to keep your kids satisfied and energized throughout the day. Happy snacking!
4. Ciao for now!
That's all folks! I hope you've enjoyed exploring the world of energy balls with me. As a mom, I'm always on the lookout for healthy snack ideas for my kiddos. Energy balls are a great option because they are simple to make, and they offer a variety of flavors and textures that kids will love!
I also appreciate that energy balls are easy to customize based on my kids' nutritional needs. For example, if they need more protein, I can add nut butter or protein powder. If they need more fiber, I can add oats or flaxseed.
Before I go, I want to leave you with a link to where I found some of these amazing energy ball recipes. If you're looking for more healthy snack ideas for your family, check out cookbooksandkids.com. They have a ton of great recipes that you and your kids will enjoy!
Until next time, happy snacking!