Cooking with Kids: Getting Started
Hey there! If you're looking for ways to get your little ones involved in the kitchen, you're in for a treat. Cooking together can have so many amazing benefits for families – from teaching kids about nutrition and health, to having fun and making delicious food as a family. In this blog, I'm gonna give ya all the tips and tools ya need to jumpstart your cooking journey with the kiddos.
Essential Safety Rules for Cooking with Kids
As a parent, it's paramount to ensure that when cooking with your little ones, safety always comes first. After all, what's more important than making sure your kids are safe? Here are some vital rules you'll need to follow to make sure everyone has a great time in the kitchen!
When it comes to handling knives and other sharp utensils, forget about letting your kids explore – this is a definite no-no. You need to be showing and demonstrating how to use them properly and safely at all times. Make sure they understand that these items can easily cause injuries if used incorrectly.
If your kids are too young to take on these tasks themselves, then they should stand well away from where the action is happening, as accidents can occur before you know it! Better yet, don't allow them near any hazardous areas, like the stove and oven. Instead, give them age-appropriate tasks such as washing fresh fruits and vegetables, setting the table, or stirring ingredients together.
Recipes To Make Things Sizzle In The Kitchen With Kids
I've got the perfect plan for a guaranteed good time in the kitchen with the kids – cook up some delicious recipes! From savory dishes to sweet treats, there are plenty of ideas you can use to make memorable meals that everyone can enjoy.
To start off, break down the recipe into age-appropriate tasks. Let your little sous chefs mix and measure ingredients, chop vegetables, and even use the stovetop or oven. If they're ready, they can even help create their own recipe! That's sure to be an adventure that everybody will remember.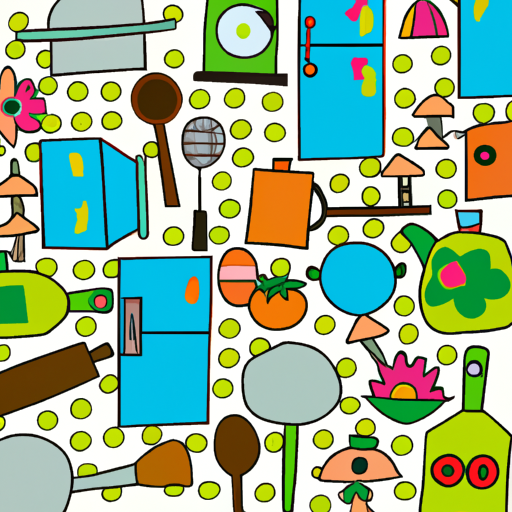 Of course, cooking with kids isn't just about having fun – it's also a great way to teach them life skills like following instructions and working as part of a team. So, emphasize the importance of reading through the full recipe before starting and remind the kiddos to mind their manners in the kitchen.
Finally, don't be afraid to get creative! Let your kids experiment and customize recipes to their liking. Have a pizza night? Instead of everyone sticking to the same topping choices, let each person choose something different and combine them all onto one yummy pizza. How about cupcakes? Let the kids decorate each one with icing and sprinkles. The sky's the limit when it comes to cooking with kids!
Tips for Maximizing Fun and Learning Opportunities
Cooking with kids is all about having fun together and learning new skills. Here are my top tips for maximizing both the fun and learning opportunities.
First of all, emphasize the importance of following instructions. With kids in the kitchen, it's easy to get distracted — so it's important to stress that recipes should be followed as closely as possible. It can be tempting to cut corners, but if kids learn to follow directions they will gain valuable cooking skills.
On the other hand, don't be afraid to let them experiment with recipes or customize them. I'm all for letting them get creative in the kitchen! For example, they might want to switch out an ingredient or two or add a bit of their own spice to a dish. That way, they understand how ingredients interact and develop their own tastes.
Finally, don't forget to have fun when cooking with kids. Engage them in conversations about different ingredients and why certain recipes call for certain items. Make a game out of it — get ready for some weird combinations! – and use humor throughout the process. When it comes to cooking with kids, the fun is just as important as the learning.
Wrap it Up!
Alright folks, let's wrap this up—cooking with your kids is a great way to foster their creativity and independence which is super important. Not to mention, it's one of the best ways to bond with them – trust me, I'm a Dad! Now we've gone over the essential safety rules, some yummy recipes to try, and tips for maximizing the fun and learning opportunities. So why not go ahead and give it a go? If you start small, with simple tasks and easy ingredients, you'll soon be showing off all the delicious dishes you whip up together. And don't forget to shake things up every once in awhile and experiment with flavors, textures, and colors too! At the end of the day, cooking with your little ones is an experience unlike any other – so don't miss the chance to make some truly special memories with them.
Cooking, Kids, Fun FAQ
How do you make cooking fun for kids?
Well, cooking with kids can be fun and educational, but it doesn't just happen – it takes some creativity and a little bit of patience. First, it's important to set realistic expectations for the activity. Kids may not be interested in creating a gourmet meal, but they can certainly be engaged in making easy, kid-friendly recipes. One great way to get kids excited is to involve them in the shopping process. Have the kids help to pick out the ingredients at the store and let them help you decide what recipes to make. That way they can take ownership in the meal and be more engaged in the cooking process.
Once you have the ingredients, you can make the cooking process fun by turning it into a game. Talk about what measurements you're using, challenge the kids to a guessing game about the flavors of the ingredients, or use a timer so everyone can race to complete a certain task. And don't forget to let the kids be creative – encourage them to pick out their own toppings and decorations for the final product. That way, the end result can be a reflection of their own ideas.
Finally, have a plan for clean up. Let the kids help you put away ingredients and wipe down counters. The process of cleaning up can be just as fun and educational as cooking. it'll give you a chance to discuss the things they learned while making the meal, or talk about how they can use the same ideas in the future. Overall, cooking with kids can be a fun and educational experience, so don't be afraid to get creative!
Why is cooking a fun activity?
Cooking is a fantastic way to bond with your little ones while also teaching them valuable skills. It's a great way to get creative and have some fun in the kitchen. Plus, it's an educational experience – children can learn how to follow instructions, understand measurements and develop their fine motor skills. Learning to cook is a life-long skill that can have a real positive impact on physical and mental health.
I've found that the best way to get kids involved in the kitchen is to start out simple – like following a recipe together. Show your kids how to measure ingredients and talk to them about how different flavors combine. Let them help you stir, pour, and mix ingredients and let their creativity flow. It's important to let them contribute as much as possible and let them know that their help is appreciated.
When you're cooking with kids, don't forget to make it fun! Try to create an atmosphere of playfulness and experimentation. Let your kids sprinkle in some unusual ingredients and challenge them to guess what each one will taste like. Making goofy faces with food, using cookie cutters, and experimenting with different colors and shapes are all great ways to get your little ones excited about cooking.
Last but not least, don't forget to enjoy the fruits of your labor together. Asking your kids to help you set the table and serve the meal can be a great way for them to see the end result of their hard work. And of course, enjoy the delicious food that you've made together!
How will you make cooking fun and exciting?
Cooking with kids can be a lot of fun and educational experience! There are plenty of ways to make it enjoyable and exciting. To start off, I suggest making simple meals like spaghetti and salad, or peanut butter and jelly sandwiches. This way, the kids get to participate in the cooking process and learn the basics of food preparation. Additionally, it's helpful to have them help you set the table and clean up afterwards. This teaches them responsibility and encourages them to take ownership of their food.
Another way to make cooking fun is to make it a game. You can set up a friendly competition between the kids to see who can make the tastiest dish. For more of a challenge, you can assign them tasks like measuring ingredients and mixing them together in a bowl. This is a great way for kids to engage in the process of cooking and have a bit of fun at the same time.
For something more educational, you can ask the kids questions while they cook. For example, you can ask them what foods are high in protein or why certain foods are healthier than others. Doing this will help the kids develop a better understanding of the foods they are working with.
Finally, don't forget to praise the kids for their efforts. No matter what the outcome, make sure to congratulate them for their contributions. This will help build their confidence and encourage a positive attitude towards food and cooking.
Making cooking with kids fun and educational is easy with a bit of creativity and enthusiasm. With these tips, you'll be sure to have an enjoyable and rewarding experience in no time!